Not too long ago, I was walking on the beach and saw this van and it piqued my curiosity: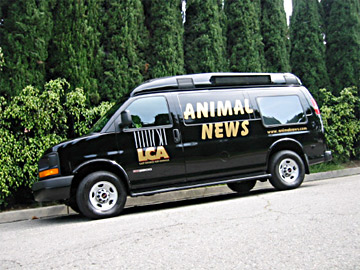 What is the Animal News Van?
The Animal News Van (ANV) is Last Chance for Animal's education and news reporting tool.
Partnered with the LCAnimal.org website, it effectively educates millions of people in Southern California on animal issues.
The van's TV screens, speaker system, and LED message board impart important information. It is the first of its kind on the West Coast, reaching people across cultural and economic lines.
What Does the ANV Educate About?
The ANV educates the public about the plight of animals used in modern society for food, entertainment, clothing and scientific curiosity.
The ANV is committed to disseminating truthful information and promoting conscious, informed lifestyle decisions in order to improve the manner in which animals are treated in the American culture. Millions of dogs, pigs, rats and other animals will be grateful when human compassion and understanding finally reaches out its arms to embrace them. (Info from LCA website.)
I've been involved in animal activism for a long time, but I had never heard of Last Chance for Animals, so when I got home, I researched the organization and learned about their mission statement:
Last Chance for Animals (LCA) is an international, non-profit organization dedicated to eliminating animal exploitation through education, investigations, legislation, and media attention.  LCA believes that animals are highly sentient creatures who exist for their own reasons independent of their service to humans; they should not be made to suffer for the latter.  LCA opposes the use of animals in food and clothing production, scientific experimentation, and entertainment and promotes a cruelty-free lifestyle and the ascription of rights to non-human beings.
Pretty cool, huh?
I reached out to local volunteers and offered to participate when there was an outreach event that needed some help. A couple weeks ago, there was an opportunity at the Escondido Street Fair, and I signed up for the morning shift.
It was a great opportunity to connect with the public and educate them about the plight of factory farmed animals and the myriad of vegan options that are cruelty-free and SO healthy.
We handed out lots of vegan chocolate chip cookies and plant-based "milk".
If you've never heard of Last Chance for Animals, visit the website and get involved!
Last Chance for Animals
https://lcanimal.org/